---
Extractables and Leachables Analysis
Leading with Science
Regulatory agencies, such as the US Food and Drug Administration (FDA) and the European Medicines Agency (EMA), are focusing on the presence of leachable elements and compounds in pharmaceuticals, drug delivery systems, and medical devices. In today's regulatory environment extractable and leachable (E&L) information is expected. E&L studies are not created equal. West Analytical Services partners with our customers to help navigate the challenging regulatory landscape to design and execute E&L studies.
West Analytical Services has been performing E&L studies for over 20 years, providing a holistic approach for your container closure system, device or combination product. We partner with our customers delivering tailored E&L studies based on the stage of development of the product. Activities may include:
Extractable, simulation and migration studies
Extractable risk assessment using our E2L™ assessment
Leachables method development and validation
Leachables stability testing and storage
Toxicology support
Capabilities and Expertise
Knowledge

West's highly trained and experienced E&L team can help at every stage for a successful regulatory submission. We perform customized, CGMP studies that follow the current regulatory requirements and guidances. West uses regulations such as USP <1663> "Assessment of Extractables Associated with Pharmaceutical Packaging/Delivery Systems" and <1664> "Assessment of Drug Product Leachables Associated with Pharmaceutical Packaging/Delivery Systems" when planning and performing extractables and leachable studies. West uses ISO 10993-18 when planning and performing studies for medical devices such as West's SelfDose™ and SmartDose® injectors.
Expertise
West has unique insights as a manufacturer of components and devices - nearly 100 years of elastomer experience.
Our extensive expertise includes:
Injectable components such as container closure systems (stoppers and vials), syringes, devices (including West's SelfDose™ and SmartDose® Injectors)
Other container closure materials including labels, foils, adhesives and films
Container/closure components for a range of product types, including drug and biological products
Service
In addition to services for customized E&L studies, West Analytical Services offers the VeriSure™ Technical Package for 4432/50 Gray and 4023/50 Gray elastomer formulations. The VeriSure™ Technical Package includes documents to support the pharmaceutical and biotech industry in the effective and proactive management of the complexity surrounding extractables (potential leachables) in these leading elastomer formulations.
The cornerstone of a leachable(s) investigation is a comprehensive chemical characterization of elastomer components in which critical materials are evaluated by conducting controlled extraction studies. The VeriSure™ Technical Package provides an extensive list of extractables which is carefully reviewed and updated.
Additional information for other elastomer formulations can be provided including:
Materials Characterization
Theoretical Material Extractables
Contact our Technical Customer Support team for additional information regarding the above packages.
Analytical Techniques
Analytical techniques typically performed during extraction studies include:
Volatile Organic Compounds — Headspace Gas Chromatography-Mass Spectrometry (GC-MS)
Semi-volatile Organic Compounds — Direct injection GC-MS
Non-volatile Organic Compounds — High Resolution Accurate Mass (HRAM) Liquid Chromatography-Mass Spectrometry (LC-MS)
Elemental Impurities (metals) — Inductively Coupled Plasma Mass Spectrometry (ICP-MS)
Ionic Species — Ion Chromatography
Additional Techniques
ICP-Tandem MS

ICP tandem MS offers unparalleled performance for the removal of polyatomic interferences, allowing for ultra-trace analysis in the most demanding matrices.

Ion Mobility HRAM LC-MS

Complex matrices are not a problem with the added ion mobility capability
Accurate mass for detected compounds •
The instrumentation allows for better separation which can lead to more information for unknown compounds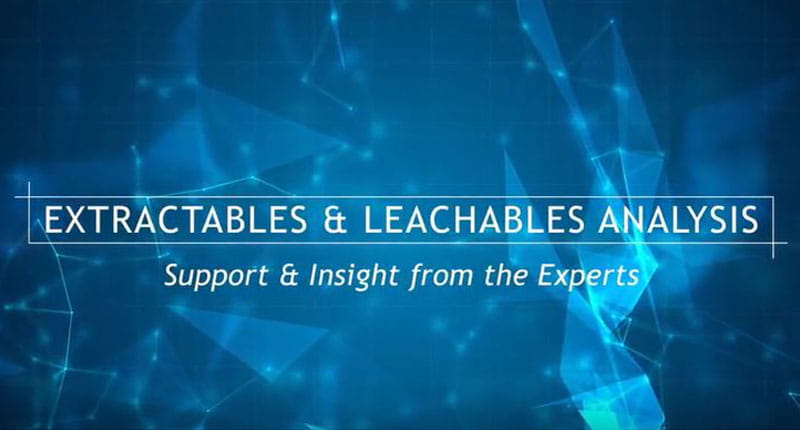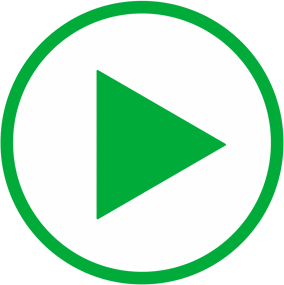 SelfDose™, VeriSure™ and E2L logo are trademarks and registered trademarks of West Pharmaceutical Services, Inc., in the United States and other jurisdictions.
SmartDose® is a registered trademark of West Pharma. Services IL, Ltd., a subsidiary of West Pharmaceutical Services, Inc.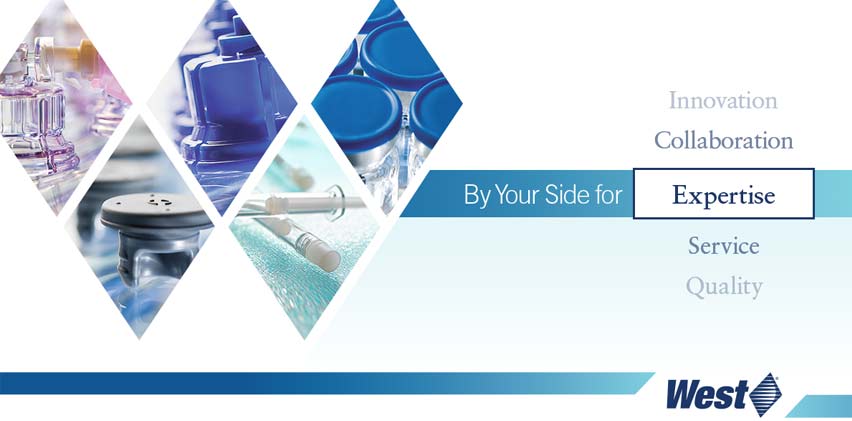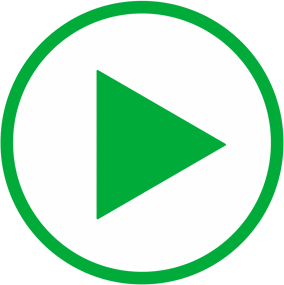 By Your Side with Analytical Solutions from West – Extractables and Leachables Testing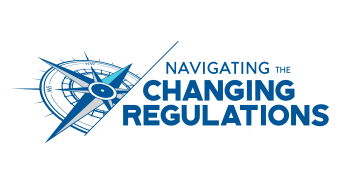 Selecting a device partner for combination product development should be based on several key considerations. Listen to our webinar, "Factors to Consider when Selecting a Combination Product Device Partner"!